Time is Money
4/23/2019 (Permalink)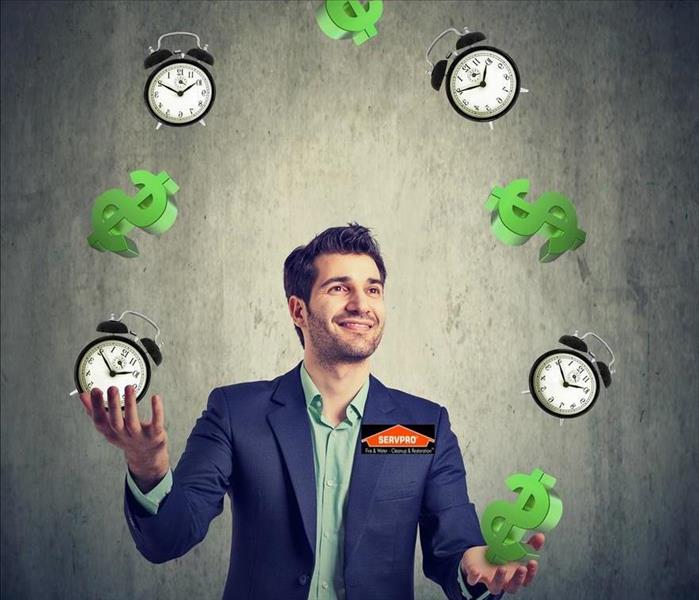 Save time & money. Hire SERVPRO of West Covina for all your Commercial Cleaning needs. Ready to rescue 24/7!
Businesses whether retail, office, school or industrial companies alike, all know that time equals money. So when a commercial property suddenly is faced with fire or water damage, taking action to resolve the problem both the proper way and quickly is crucial. Every moment the day to day operations are down is costly. As a professional restoration team who works closely with national insurances, local businesses and property management companies, we know they all have the goal of keeping costs to a minimum. So, we work extremely hard to be efficient at what we do from the beginning to end of each and every loss.
If flooding has occurred, safety is always first. Beware of slips, falls and potential risks of electrical shock. Will you need water extraction or pump out, help with protecting and salvaging items and equipment around the affected areas and professional structural drying to avoid potential mold issues? If a fire occurred, is everyone safe? To keep from injury and to prevent further damages, keep the burned and smoky areas clear of foot traffic and from being touched. Do you need help with inventorying items lost in the blaze, removal of soot and smoke odor? Will construction services be needed? Has water damages occurred from extinguishing the flames? SERVPRO can help with all of the above.
By responding immediately and with the appropriately sized team for the cleanup situation, we help to meet the goal of saving time and money. Many times our teams work around the clock in shifts to proceed with the commercial restoration process in a suitable manner. We understand each day the business doors stay closed, money is not being generated as it should. We know that if the facility is a restaurant, grocery store or food manufacturer, not until the damaged space is returned to a safe and sterile environment, will the California Department of Public Health and Safety will be able to give their clearance to reopen. This will ensure the safety of the business's environment. Our recommendation? Only use a professional restoration company that has well trained IICRC Certified team members along with a fine reputation for doing quality work in the community. One that has a General Contractor's license and is familiar with California state guidelines, building codes and reducing costs ultimately saving you both time and money.