Got mold?
3/17/2021 (Permalink)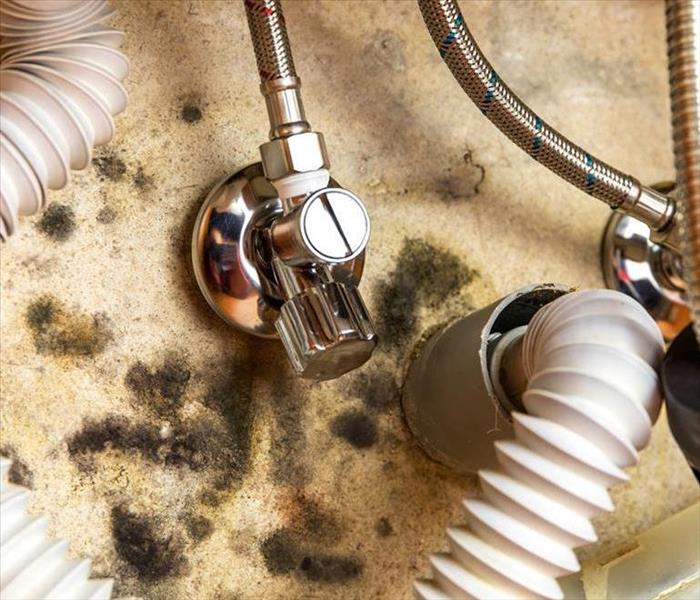 Mold in our environment is common but if you come across it indoors, call us out for a professional assessment.
You've just discovered dark spots under your sink… you may have lots of questions.
Now what?
Will it go away on its own?
Can you spray bleach and wipe it away or paint over it?
It depends. Mold is always in our environment naturally. While finding moldy patches in a hidden area such as under a sink, rug, or when you move a piece of furniture, it may be hard to determine what the real issue is. Figuring out what the mold is a symptom of is key because whatever mold spores are present will not disappear in time, in fact, if a water leak is present, the problem may only get worse.
So what is the cause or source of what you are seeing?
Are you experiencing plumbing issues?
Is ventilation poor?
Since mold develops rather quickly, it CAN NOT develop and grow without 3 vital*** things, it is important to know what they are and how to address a mold problem at your property.
Mold requires three conditions being present to grow
MOISTURE TO GROW AND FLOURISH
ORGANIC MATERIAL AS A FOOD SOURCE
COMFY TEMPERATURES LIKE TYPICAL INDOOR SETTINGS
***For additional details related to this topic see our blog coming soon... What mold needs to Develop and Grow
Is a quick fix the wisest option?
Again, the answer is: It depends.
How much mold is present?
Are building and/or structural materials affected?
Is the issue at a rental property that you are responsible for? Is your and your family's health at risk?
If you are concerned about the possible negative effects of mold and you hide it by painting what is visible, you are not stopping the root cause. Putting a Band-Aid on a gaping wound that needs a Doctor's attention may do absolutely nothing to improve the situation.
Our company offers complimentary inspections for your peace of mind. By getting a professional's opinion based on your specific circumstance, you will be better informed on how to proceed. There have been times at an inspection where our technician searches for moisture, none is found, the area of concern is small and no demolition is recommended at that specific time. In other situations, our technician has discovered a hidden water leak within the wall and the wet and moldy drywall, paper backing and paint is mush. When in doubt for how to proceed, do not delay in calling our team out for an assessment, we are happy to help.