How to Prevent Fire in your SOCAL Home
4/19/2018 (Permalink)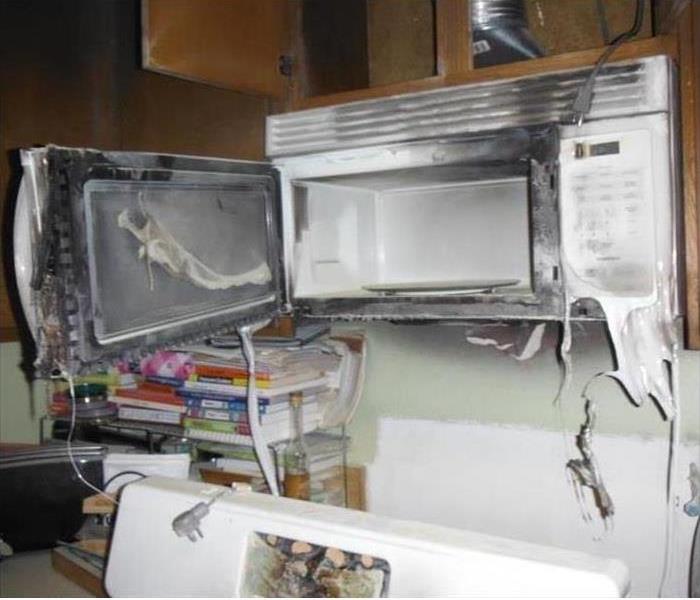 Damage happens so quickly! Flames from the oven began to melt this microwave, spreading the awful smell of burnt plastic throughout the home.
Each year fires occurring during the fall and winter seasons injure more than 2500 people and cause more than $390 million in damages. Please keep your family safe by reviewing with them a few of the ways that we have seen home fires begin:
Do not overload electrical outlets, this is SUPER DANGEROUS!
Do not leave empty plastic home fragrance plug in cartridges in outlets
Avoid burning candles, but if used, keep under close watch
Keep candles and lights away from combustible materials like paper and fabric
Before leaving for the day, going to bed at night or leaving a room, turn off and unplug all lamps, chargers and electrical appliances
Do not charge phones, tablets or laptops on soft surfaces like carpet, beds or sofas, etc.
When operating a microwave nevert use paper goods, fabric or metal inside it
If cooking food on the stove top or in the oven, do not leave unattended
Through utilizing Fire & Safety Tips aim to prevent a fire from ever starting in your home. However, accidents do at times occur so please take the time to test your smoke alarms and remember to test annually and replace them every 10 years. If smoke damage does affect your property, please call out the professionals with the expertise & experience to provide complete fire restoration services and odor removal.