What is Water Mitigation?
4/29/2020 (Permalink)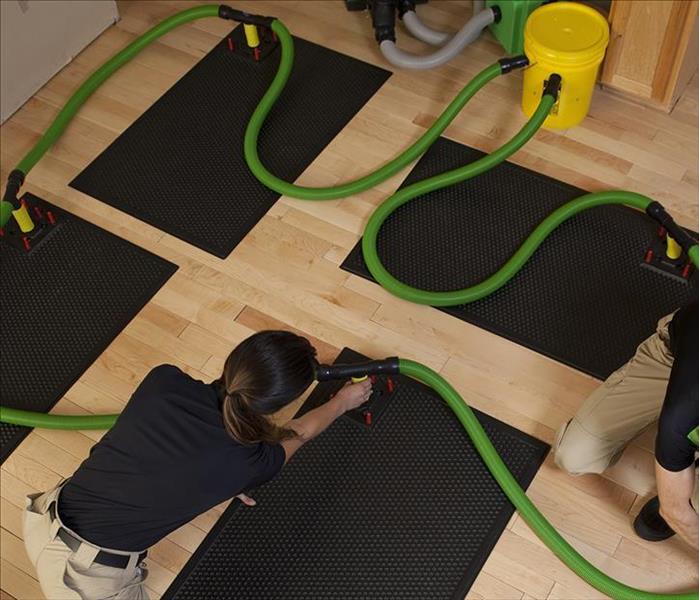 Act now by calling in the SERVPRO professionals to mitigate damages & save your expensive hardwood floors by the use of specialty drying equipment.
Disasters can unexpectedly occur anyplace at any time. If you are searching online for a plumber, perhaps what you really need is a water restoration company. It can be comforting to know that you do not need to handle the property damaging situation alone because SERVPRO of West Covina is here to assist around the clock.
We understand that certain terminology and vocabulary we are accustomed to may be unfamiliar to some. Mitigation is a term used to describe one of the services SERVPRO offers when property damages have occurred. It denotes actions taken to help to lessen or eliminate risks caused by potential hazards or disasters. Our team is called in to mitigate or stop the damages from proceeding to get worse. By intervening right away, our mitigation services are aimed to ease or alleviate the problem. Mitigation provides improvement to the situation and without it, the severity of damages continues to spread. FEMA explains mitigation as an effort to reduce the loss of... property by lessening the impact of disasters. Their same page also goes on to state that: for mitigation to be effective, ACTION MUST BE TAKEN NOW – before the next disaster – to reduce human and financial consequences later.
Here is what you can expect after contacting SERVPRO of West Covina:
When you call our SERVPRO of West Covina franchise, whether you are calling during the early hours of the day or in the middle of the night, you can always expect to speak with a trained professional about the emergency you are experiencing. We never use an answering service because we understand that questions may arise after an accident and we want to help address all your concerns personally. Our phone lines stay available to emergency calls during weekends and holidays.
Quick Response - When a building has been damaged due to water damage, flooding or fire, the response time is an important factor in how costly restoration might be. Since SERVPRO of West Covina is always available to be reached, we will gather the necessary information by asking you a few questions, after which you can expect to hear back within the hour for a window time frame of when to expect our technicians.
Arrive Time - Our technicians can be on-site to begin the restoration process as soon as you are available to meet them. This fast response can make the difference if your property has suffered extensive damages. Water, fire and mold can result in building materials being adversely affected. By beginning the process quickly, it will result in less damage overall which ultimately will cost less money.
Inspection/Verbal Briefing - Once the damage restoration specialists have arrived, they can perform the onsite inspection and brief the principal parties on the extent of the damage. This verbal briefing will include recommendations based on the IICRC standards. This helps you determine whether to put the loss in as an insurance claim. Together we will determine the best course of action to moving forward.
Restore vs. Replace - The old way of handling water damages was to rip out all wet materials regardless of the bacteria levels present. But if the water source is classified as clean, restoring is a much-favored alternative. If the circumstances allow, SERVPRO will Dry-In-Place by extracting the flooded areas, placing drying equipment machinery, documentation, and checking moisture readings daily. This ensures proficiency and proof of work completed. National insurance companies recognize that millions of dollars are saved each year by choosing to restore using this method. This method not only speeds up the Water Mitigation process but also produces happy customers, which should be the goal of all service industry businesses.