About SERVPRO of West Covina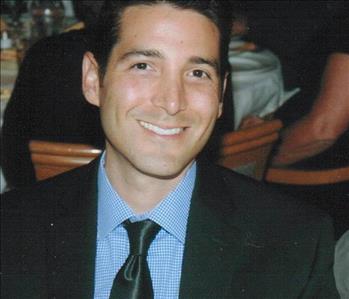 Ryan Tellez
Owners of SERVPRO of West Covina
NEWS ALERT:
SERVPRO of West Covina is here to help during this time of need. We are Cleaning Experts including for the Coronavirus. We are prepared to clean and disinfect on a large commercial or on a smaller residential scale. To learn more regarding this specialty cleaning service, select About Us and scroll to our Blog dated March 18, 2020 or call our team on standby at 626.960.9145
When disaster strikes and you discover Water has flooded your dwelling or Fire & Smoke has left a trail of damage behind or you suspect a Mold inspection may be necessary, call SERVPRO of West Covina. We service all of our Socal Communities and are available to render Emergency Services 24/7.

Our team specializes in both commercial & residential restoration services. Whether the damage is isolated to a small room, affecting a large warehouse or extensive in multiple story buildings, we can help.

We take pride in the fact that we are different!! Our first concern is "You", our customer. Honesty is always at the forefront and ALL our employees are clean-cut, very well trained and certified to ensure that you receive the highest level of service. From the time we arrive, until our job is done we will do everything needed to make sure you, your family, your home and/or your business are taken care of. If you are dealing with an insurance loss we will assist with all the documentation that your insurance company requires.

Our goal is to help minimize the interruption to your life and business by responding quickly, communicating well, working hard and handling all the details with expertise. Everyone on our team is here to help YOU and we care about restoring your property in a timely manner. Needing reconstruction? We offer peace of mind by knowing that our team can assist with your project all the way through the very end. As a General Contractor, (CA License No. 968875) we are available to complete all repairs necessary from drywall repairs, painting, to cabinets, molding and flooring installation, keeping the entire process as simple as possible.
Call us direct and ask about our complimentary inspections: 626.960.9145
Insurance and Payment Information
For a stress free claims process, SERVPRO works with your insurance to help manage the insurance process and paperwork.
We also accept the following credit cards for your convenience:



Certifications
American Drying Institute
AMRT - Applied Microbial Remediation Technician
ASD - Applied Structural Drying Technician
CCT - Carpet Cleaning Technician
FSRT - Fire & Smoke Damage Restoration Technician
HST - Health and safety Technician
IICRC Certified Firm
RRRP - Lead-Based Paint Activities and Renovation
WRT - Water Damage Restoration Technician
Affiliations
Better Business Bureau
EPA Lead-Safe Certified Firm
Local Chamber of Commerce