Happy Fall Y'all!
9/27/2019 (Permalink)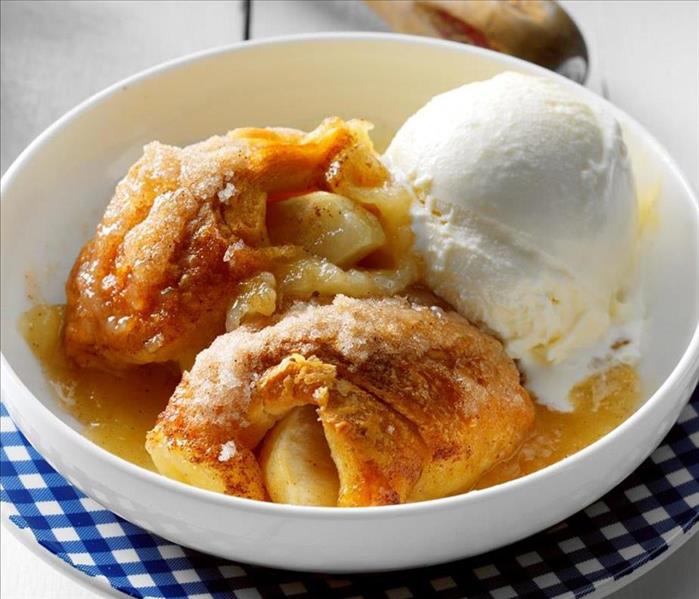 The stormy Fall Season brings all our comforting and favorite baked goodies to mind. This Baked Apple Dumplings Recipe is a must-try!
While hot days and summer activities are a huge part of SOCAL living, the extremely hot temperatures we have been experiencing can easily zap us of our energy. As Monday, September 23rd officially kicked off our first day of fall, we didn't actually get to see the fall weather begin until two days later… Now that temperatures have dropped and our projected weather forecast shows exciting numbers ranging from daily highs from 70 degrees to a high of 87 degrees, we are super happy and relishing the days to come! Of course, this change in the weather has already brought in both water damage and mold inspection calls and we remain ready for a whole lot more as we move deeper into the season. Seems like for a couple of weeks now the humidity has been so high and our cars continue to get sprinkled on as we wait for storms to roll in or past us.
Besides the change of colors in the scenery, this preferred season of many brings the start of traditional family outings such as to our local apple orchard towns and villages. One of our family's favorites is found at the base of our San Bernardino Mountain's at the Oak Glen Apple Growers Association.
Oak Glen has been a favorite destination for as far back as we can remember because of it's charm and is the ideal place for memories to be made. With 'apple everything' to be had there, from rustic-looking mile-high apple pies, to apple cake, apple danishes, apple empanadas, apple cookies, apple muffins, caramel apples, apple candies, made to order apple donuts (lines are long but so worth the wait), apple cider floats, apple variety sampling, all of which are delicious. In fact, Pink Pearl is an apple with pretty pink flesh on the inside. It can be pricy but tastes as good as it looks. Other faves are Pink Lady and Johnagold varieties.
There is a quaint little museum and fun activities are available at each orchard such as apple tree picking, raspberry picking but only if you arrive early enough in the season, fishing, panning for gold, and cold pressing your own apple cider! Depending on how sweet… you add more red apples or how tart you desire the cider, you add more green apples to the ratio of your bucket. The process is neat but the end result is even better. For those who haven't yet tried it, freshly made cider essentially tastes like natural apple candy, YUM. Even if we don't have the time to make our own cider, we always buy a glass gallon jug or two to enjoy because there is nothing else like it in any stores. Plus something to look forward to is the Apple Butter Festival 2019.
With all this talk of fall apples, here is a fast and easy apple dumpling recipe ideal for busy families. Cooking and baking shortcuts are always welcome in our kitchen. Simple enough to include the kids in on preparation, yet scrumptious enough for entertaining! Serve this warm with some French vanilla ice cream or homemade whipped cream and you'll have quite a comfy treat.
A Taste of Home Baked Apple Dumplings
2 medium Granny Smith apples
2 tubes (8 ounces each) refrigerated crescent rolls
2/3 cup sugar
1 cup butter, melted
1 teaspoon ground cinnamon
3/4 cup 7-UP or Mountain Dew soda
____ Directions____
Preheat oven to 350°. Peel, core and cut each apple into eight wedges. Unroll both tubes of crescent dough; separate each into eight triangles. Wrap a triangle around each wedge. Place in a greased 13x9-in. baking dish.
In a bowl pour melted butter, sugar, and cinnamon until blended; pour on top of crescent rolls. Slowly pour soda around the sides of rolls (do not stir).
Bake, uncovered, until golden brown and apples are tender, 35-40 minutes. Serve warm with ice cream or whipped cream and Enjoy!
** Easily switch it up by swapping apples for peaches, raspberries, blackberries or blueberries