Why is it important to call in the experts when dealing with water damages?
3/12/2021 (Permalink)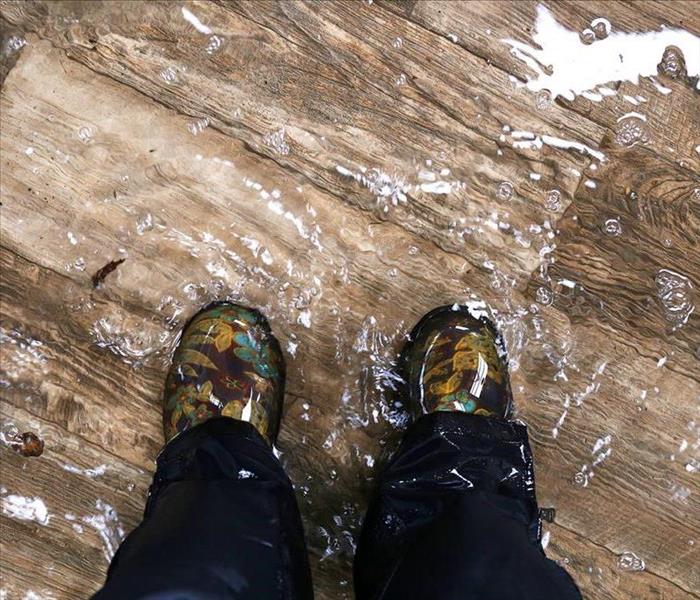 Do not delay in seeking professional help when faced with a situation like this one. We can help save those beautiful hardwood floors!
Who of us could expect waking up, stepping out of bed, and being ankle-deep in water!? Really, it may be the very last thing in our minds, until it happens. How you initially respond can make a huge difference. Some tirelessly try mopping the excess water up themselves. Others run to the home improvement store and rent a shop vac thinking all that is needed is to address the water visibly seen.
Important to note ahead of time is that time and money can be saved by calling in the professionals right at the very beginning. Scoping out the extent of damages will be the first step. How far did that water travel? Is water accumulated in wall cavities? Behind cabinets? In-ceiling light fixtures? We know water and electricity don't mix, so is a risk of electrical shock present? How will each concern be professionally addressed?
Next, a professional water extraction will address saving our cherished flooring materials but a proper dry down with adequate pieces of specialty equipment will be placed and checked on regularly the next few days to ensure success, especially in areas unseen such as in wall cavities.
Our goal when dealing with a water pipe rupture of clean water is to restore everything without demolition. This saves costly replacement of materials and high reconstruction bills later. But how do you know which protocol is right for your circumstance? By calling out the experts immediately you can take advantage of saving time, money, and peace of mind, which really is priceless especially while continuing to live through a pandemic. None of us need any extra stress or worries these days… Make the right choice, to begin with, and have the confidence that you can call our team any time of day or night, weekend or national holiday and receive an immediate response.