What services are offered at SERVPRO?
4/7/2022 (Permalink)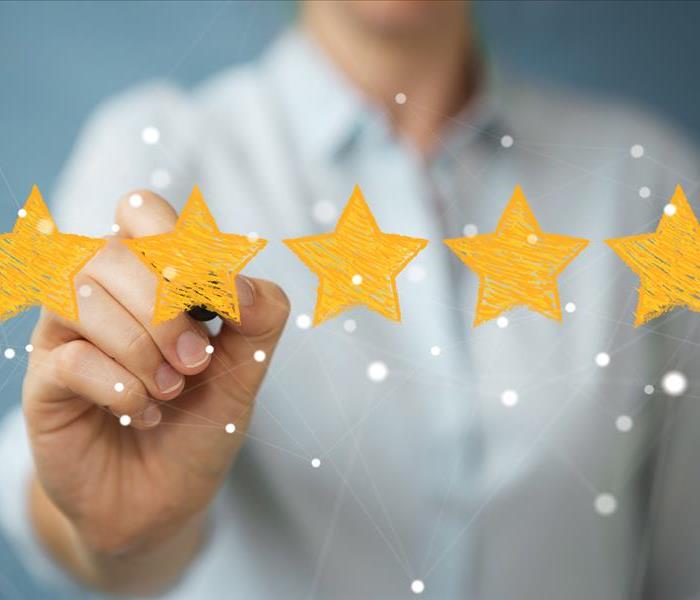 Choose to hire professionals who value you, your health & safety, your property, and your important feedback.
With so many local businesses in our SOCAL community, you would select SERVPRO of West Covina because you are in need of either commercial or residential specialty cleaning services that a typical maid or janitor company may not offer. You will want to hire us because our IICRC certified team is well trained to be quick to identify an emergency property cleanup need over an issue that can be scheduled and attended to during normal business hours. If you are unsure what your specific need is for, you can trust that our decades of experience will add up to your benefit when our professional protocol and recommendations are reviewed at the time of inspection. Then we get right to work. We will even assist with the claims process if that route is needed. The big difference that you will experience, is that we care. We care about you, we care about your project, we care about our community, and we care about our reputation. We are here to help with the property issue you are facing. Check out our online reviews and call today to learn more!
SERVPRO of West Covina offers the following:
Emergency Restoration:
Water restoration
Water pipe rupture cleanup
Water flooding extraction
Water removal
Sewage removal
Catastrophic wind and storm response
Post water mitigation dry out of the structure (dehumidification)
Fire restoration
Smoke and soot removal of structure and contents
Secure and stabilize post-fire
Board ups
Non-Emergency Restoration:
Mold inspections
Mold removal
Mold testing
Post plumbing repairs
Pack out of belongings during the repair phase
Content inventories
Off sight cleaning of contents
Drying of electronics, equipment, documents, and/or art
Pack back of belongings post-construction
Specialty Cleaning:
Odor removal
Methodical and detailed structural cleaning of ceilings, walls, contents, and floors
Flooring, carpets, curtains, blinds, and upholstery
HVAC cleaning
Attic cleaning
Crawlspace pump out, sewage removal
Vandalism cleanup and repairs
Crime scene/biohazard cleaning
High content - hoarding experts
Reconstruction:
Post water damage
Post-fire damage
Post mold remediation
Post-storm damage
Haul away, demolition, debris removal
Repairs to structure and/or building materials