What to do when a toilet overflows
4/19/2022 (Permalink)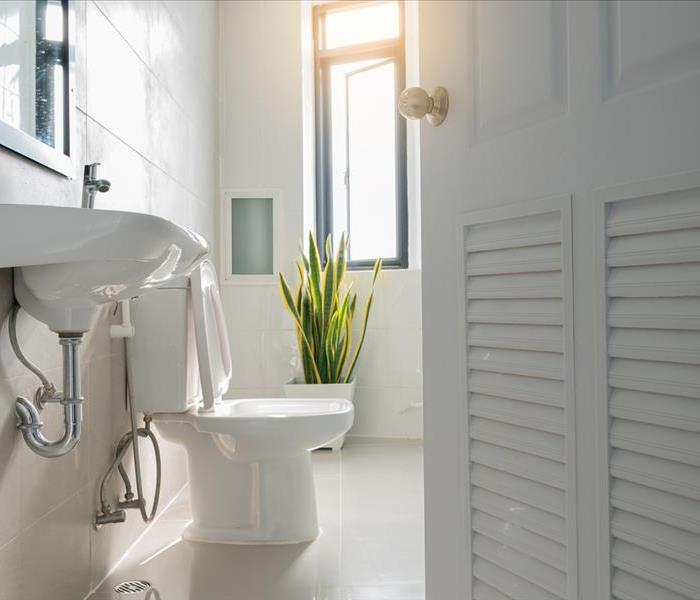 Keep your property clean and properly sanitized by calling SERVPRO of West Covina to assist after a plumbing leak, flood, backup, or overflow issue.
Eventually, at some point, each of us ends up having to unclog a toilet. The goal is to clear the drain before the water spills out of the bowl. Sometimes despite our best efforts, the water floods the surrounding area, and other times, the backup is so bad that the plumbing issue causes a second toilet or drain also start to overflow and a larger area is affected.
Typically most of us are concerned about the flooded water and will give it our best try at housekeeping but is that enough? What about the unseen areas like, under the flooring materials, behind the baseboards and wall? Even if it is clean tank water, dark wall cavities that have flooded can quickly lead to mold growth behind the walls. But what if toxic contaminants, raw sewage, and/or lurking bacteria are present? Left untreated or using an improper protocol can potentially lead to health safety issues and a horrendous smell in the days to come.
Hospitals, nursing care facilities, schools, libraries, government/city buildings, building engineers, and property managers who have maintenance teams on-premises know that when dealing with important safety concerns like sewage backup, the best thing to do is to call in a professional restoration company. As a property or homeowner, you are encouraged to do the same. Avoid unnecessary problems and trust SERVPRO which are IICRC certified to handle the cleanup.