How to get rid of mold?
4/20/2022 (Permalink)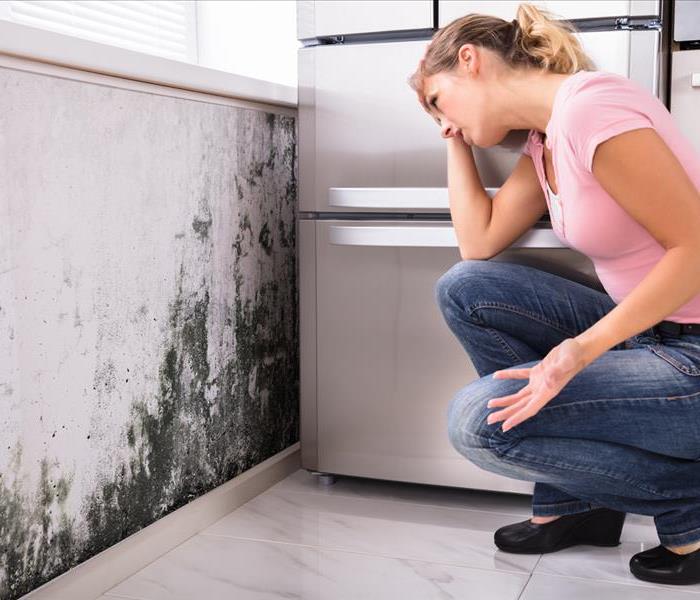 Dealing with mold issues? Call now for a visual inspection. If you are unsure as to whether or not mold is present, call to learn about mold testing.
With any potential property damage, prevention is key. The CDC recommends that after any sort of flooding that you clean up and dry out your home thoroughly and quickly within 24-48 hours to avoid the high risk of microbial growth.
Many have heard that you can use a bleach solution to scrub and wipe away to remove the visible mold, but will that work? It depends. If a hard surface is affected at the surface level only, is unoccupied by humans and/or pets, perhaps but PLEASE NOTE: PPE (personal protection equipment) should be used by regular building maintenance staff, and only if they have been properly trained by OSHA to do so. Also, if you are only talking about a wall or ceiling tile section where a small 10 square foot or less needs to be cleaned, the spores will become dormant and only reactivate if re-saturated.
So really depending on how much water damage occurred your plan of action may vary. Once mold starts to grow in building materials the proper IICRC protocol is to remove and replace the items. Mold spores are often likened to a dandelion. As kids, we would blow on the top cluster of the flower or lawn weed, and watch the fuzzy seeds float away and spread all over. Mold spores act very similarly and can spread quickly with air movement.
So do you hire a handyman for this job? You could but, what is their knowledge of proper removal procedures? As walls are opened, drywall, moldy carpets, or floors removed, the mold spores are kicked up into the air and could be spreading throughout the rest of your home or business if not contained.
Whether you are a homeowner, business owner, or commercial property manager/owner... Hiring an IICRC-certified professional restoration company like SERVPRO of West Covina to remediate the mold the right way using many, many years of expertise along with specialty equipment will keep the air-quality healthy which can give you peace of mind in the future.