Common Mistakes made after a Water Damage
4/27/2022 (Permalink)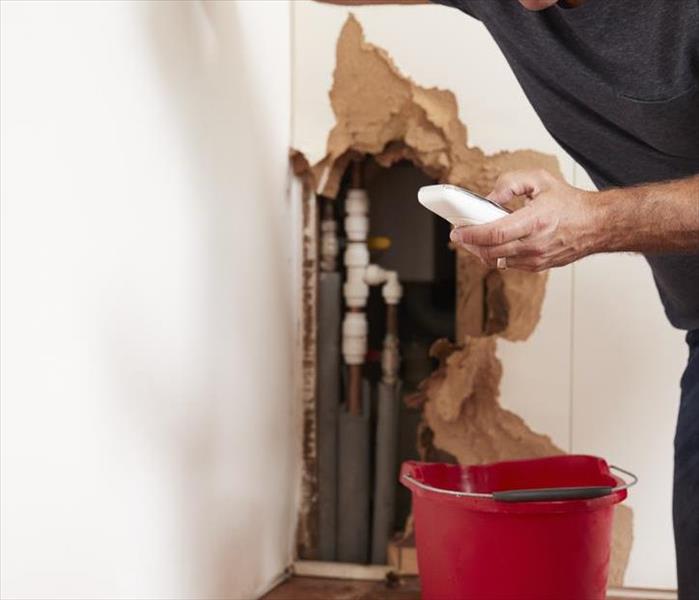 Call us first. We have moisture meters, and an infrared camera to inspect an issue without opening the walls up unnecessarily.
If you have ever experienced a flood or water leak at your property you do not quickly forget everything involved with the cleanup.
It typically is stressful due to first the unexpected occurrence, then wet materials begin to smell, plus professional drying equipment is noisy, loud, hot and a lengthy process. The flood that occurs so quickly, unfortunately, does not go away as quickly as it occurred and that can be inconvenient and frustrating. But, just as extra shine, volume, and fine results that you get in a hair salon from a professional blowout on your hair, despite the hot noisy blow dryer… it is a necessary step to achieve optimum results. To that endeavor, trust the professionals with your pricy investment and avoid mistakes that you could later regret.
Do not ignore the issue – Water spills, leaks, pipe ruptures, and floods never ever resolve on their own. A plumbing repair may be needed but in addition, wet materials left alone will start growing mold within only a few days. If bacteria are present in the water, they will quickly multiply and eventually smell horrendous enough that you will want to rip out all the carpet for disposal. Keep the air quality indoors healthy and safe by giving us a call as soon as you notice the first sign of water being present where it does not belong.
Do not take matters into your own hands – So many times, the calls we get are from hardworking tenacious individuals who start mopping up the flooded areas or run to Home Depot for a shop vac but things never turn out as well as they hope because you can only clean what you visually see. Water however soaks and seeps past walls, baseboards, and under flooring into crevices and dark cavities and secondary damages rapidly occur. If too much time passes we are no longer looking at only water mitigation, but also a mold remediation service. Save time and money by calling SERVPRO right in the beginning.
Do not hire an uncertified person – Industry standards are set by the IICRC (Institute of Inspection, Cleaning, and Restoration Certification) as a protection for all involved. Keep costs for repairs to a minimum by hiring a professional restoration company with superb online reviews that you can trust. SERVPRO saves national insurance companies millions of dollars each year by being a preferred vendor, responding immediately, and after evaluating the specific circumstances, creating the best plan of action.
Call SERVPRO of West Covina today. 626-960-9145