Toilet overflow wets almost entire home in Rancho Cucamonga, CA TWICE
4/18/2018 (Permalink)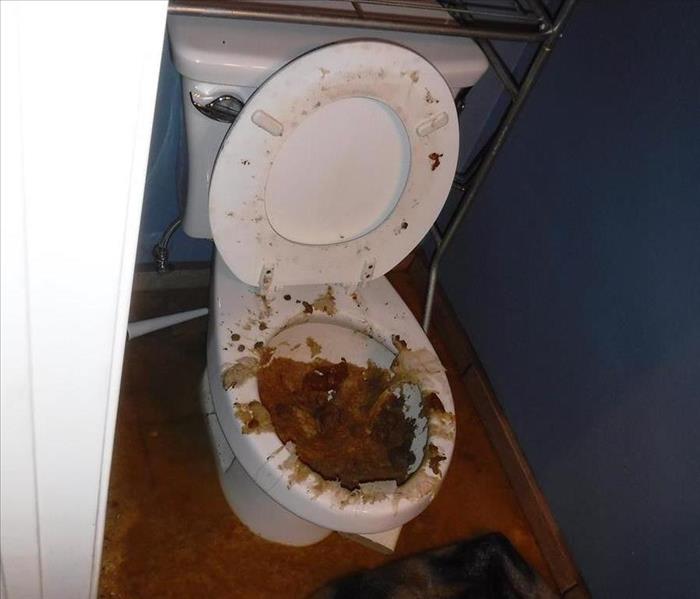 WARNING: Viewer discretion is advised due to graphic nature. Not suitable for all audiences as one toilet was definitely harmed in the picture above.
Having plumbing problems can be the worst! Experiencing a sewage back up or a toilet overflow when fecal matter is present essentially paves a pathway of disaster to a property because everything the bacteria laden water touches must be removed for obvious sanitary reasons.
In this particular instance, unfortunately, not only did this tenant know the toilet was having back up problems but this whole scenario was the second occurrence in the matter of only months. Flooring everywhere the backup traveled required prompt removal, along with a foot or two of drywall, baseboards and lower cabinets. Definitely a lot of work.
We certainly understand that accidents happen… We are here around the clock to respond regardless of how difficult the job that we encounter may be. A QUICK Tip: If a toilet at your home or business is continuously running, repeatedly clogged or seeming problematic, turn off the water at the toilet supply line located at the base of the toilet by turning the knob till you hear the water shut off and call a local plumber. If it's too late and the water "hath runneth over", call SERVPRO of West Covina right away to prevent further damages or illness. We service our entire SOCAL Community with free visual inspections.