Customer Satisfaction remains Vital in 2021
5/17/2021 (Permalink)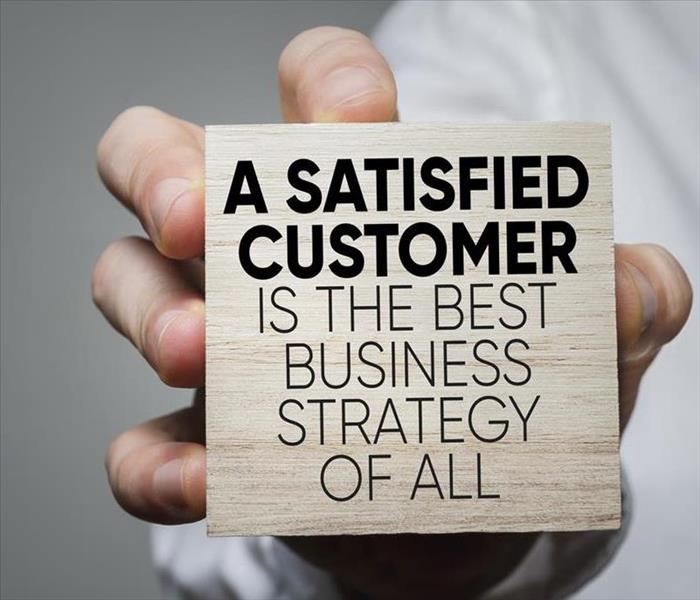 Happy Customers Lead to Happier Employees. Our entire team is committed to measuring customer satisfaction daily.
81 percent of satisfied customers who had a positive experience will be a repeat customer
In any industry high-standard, customer service will win return business. A loyal customer is prized so much that many professionals are willing to go the extra mile to retain clients. In the restoration industry an industrial or commercial building owner that hires us to extract flooded water throughout and dry up costly contents, may in fact never be in need of our services again unless a disaster directly affects them. However, the strong relationships that we make with local business owners and property managers mean so much to the livelihood of our business that our whole team bends over backward to make the best and lasting impression. Receiving good customer feedback is always encouraging to share with our team members as it boosts morale especially since we all work so hard to strive for excellence.
If and when our emergency property services are needed for a repeat customer, we love it when they were so happy with our hard work the first time that they call us out again. Because our main goal is to treat you the way we want to be treated, we work to gain your trust and provide a positive experience through good communication and understanding your needs and concerns throughout the whole process. A simple way to view it is that providing fantastic customer service, is a win-win for all involved. Our team will be satisfied with a job well done which makes the earning of a paycheck a bit more joyful and our clientele will appreciate having a caring professional company work at their business or home during the difficult and stressful time of dealing with unexpected damages from a fire, storm, water intrusion, mold, covid-19, or vandalism. Regardless of how we may help our SOCAL community, we are more than happy to do so. Please feel free to call today for any questions that you may have.